Seeing Beyond the Impossible
EAST GATES' LEGACY IN CHINA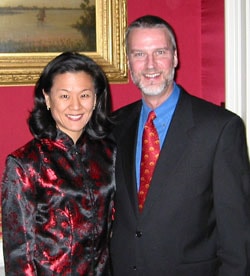 Over 20 years ago, God called a small group of people to begin a unique ministry in China, that from the beginning, had a huge mountain to climb.  They knew they had to rely upon God's faithfulness and nothing else.
China is one of the longest lasting civilizations on earth and brings with it an illustrious history and culture that continues to transform the modern world.  This transformation, however, has not come without a cost.  Since time immemorial, the Chinese have been closely acquainted with adversity.  Even after the dynastic cycles ended at the beginning of the 20th century, they were not immune from calamity, as wars with bordering neighbors and internal strife caused the nation great pain and suffering.  Well known to the outside world, the Chinese government acknowledged the Cultural Revolution (1966-1976) to be an immense tragedy that set the nation back a whole generation.  Millions of intellectuals, gifted artisans, and professionals with great potential were all sent to prison or made "to serve" on farms and factories in the countryside.  Many were practicing Catholics, Taoists, Buddhists and Protestant Christians who died from ill-treatment or severe persecution.
With the passing of this "dark age," the clouds slowly lifted, and testimony upon testimony surfaced about what God had been doing behind the scenes.  Christian churches rose from the dust.  God's Spirit had not been quenched in those whose hope and joy were in the Lord.  In the midst of adversity, their roots had gone deep and now they were ready to build.
In 1988, many ministries and mission groups started flowing into China.  Many had a genuine calling to partner and serve the growing number of Chinese believers but as always is the case, some wanted to exploit their sufferings for personal attention and gain.
Shortly after the 1989 Tiananmen Square event, a group of Chinese House Church leaders became aware of my parents' love for China and their 1988 historic trip to my mother's birthplace in Huaian China.  That year, these leaders also learned of my interest in China from a man I met while serving as a pastor near Seattle.  Through this connection, these House Church leaders invited me to a private meeting.  They wanted to discuss ideas regarding how God could use their networks in China, with our influence, to change the course of the China's modern church history.
In the autumn of 1989, I made my first visit to the People's Republic of China (PRC).  It was a pivotal trip as God opened doors at many levels.  I had the opportunity to meet with top leaders within China's government and religious departments such as Bishop Shun Yi Fang, Bishop KH Ting, Rev. Han Wenzao and others.  Doors were also opened to meet privately with many of the most influential House Church leaders at the time -- Wang Ming Dao, Li Tian En, Samuel Lamb and Allan Yuan to name a few. Most of them are now with the Lord.
As timing would have it, my parents' visit was said to be the cause of a prominent Chinese House church evangelist, Xu Yongze's arrest, upon his entry into Beijing to attend one of my father's meetings.  It was purported that my father had extended an invitation to meet with him.
Despite the confusion and great misunderstanding, God had other plans.  What men intended for evil, God blessed and turned into good (Gen.50:20).  When I was in Fuzhou province, I was woken abruptly at 2 am in the morning by a House church believer.  In distress, he said an underground Bible printing operation was in jeopardy because of a software glitch.  Knowing my knowledge with computers, he was hoping I could help.  The next thing I knew, he came by.  We walked for an hour in the dark to an apartment that was "blacked out" -- something you would expect in the London Blitz.  After solving the software problem, I was asked if I would be willing to wait and meet someone.  At this point, I didn't know if this was a trap by China's Public Security Bureau (PSB) or a "God Thing." I decided to wait, resting in His faithfulness.
To my surprise, Xu Yongze's son was in hiding near this location and he wanted to meet me.  When he arrived, the Holy Spirit descended and we fell weeping into each others arms.  In brief, he told me the story behind his father's arrest.  His father was visiting Beijing, but obviously not at my father's request.  His father had been going to meet friends and on the way, was arrested in a park by the PSB.  His son told me how much it had pained his father to have my family blamed for his arrest.  He said the House Church community across China wanted me to know the truth.  This divine appointment led to great healing between a number of House Church networks across China. God began to swing open gates only He could open!
In 1990, within the underground House Church movement, there was a huge need for Bibles.  Several House church leaders asked if I could use our relationships within the Central government, to secure legally printed Bibles at the Amity Printing Press in Nanjing for safe and secure distribution throughout their networks.
At the time, my mother, Ruth Bell Graham was one of the founding Board members of East Gates of which I eventually was elected President.  Our God given premise was to change China's negative perception towards Christianity.  Our goal was to work with the "top" and "bottom" in China and help the governing authorities better understand the House church movement better.  Our hope and prayer was that eventually, they would see the mutual benefits gained from the relationship.
Based upon the sterling examples of my grandfather, Dr. L. Nelson Bell, James Hudson Taylor and other key pioneers called to serve China, we knew God's approach was never political but spiritual.  To assist the growing Church in China, we needed to engage the leadership to help them better understand their growing Christian population as well as help reconcile the deep hurts existent between the Open and House Church leaders and registered and unregistered believers.  The first step was to work at the top and dialogue with the Chinese government and the primary entities that represented their religious and Christian ideological positions -- the Religious Affairs Bureau (RAB), the Three-Self Patriotic Movement (TSPM) and the China Christian Council (CCC).
Given our desire to see Bibles available to all Christians in China, without restriction, and knowing the growing House churches' pressing desire to obtain them without threat of confiscation or imprisonment, we prayerfully began diplomatic initiatives with this objective in mind.  We were told by respected journalists, politicians, State Department officials and notable ministers that we were naive and misguided but we continued to walk in God's faithfulness.  Our East Gates verse is, "For with God, nothing shall be impossible" (Luke 1:37, KJV) and our motto is, Seeing Beyond the Impossible.  We have always experienced this promise to prove true.
Through Godly wisdom, patience and perseverance, we were given favor with the RAB, TSPM and CCC officials and they began to see how giving the opportunity for millions of House Church believers to receive Bibles would only be advantageous for them.  Contracts were signed with the promise that after House Church believers provided the proper identification (comparable to like a social security number in the U.S.), East Gates would be given the permission to legally distribute Bibles to them throughout China without restriction.  In addition, the promise was made to those House church believers, who signed up for a Bible, that they would not be tracked down or harassed.  To date, East Gates has distributed close to 3.5 million Bibles throughout every province and that promise has been kept.
My father has often said, "There is no greater tool for evangelism than the Bible."  Without God's Word, we are poorly equipped to carry out the Great Commission.  Jesus told His disciples as they gathered on the mountainside, "You are the light of the world... In the same way, let your light shine before men, that they may see your good deeds and praise your Father in heaven" (Matthew 5:14-16, NIV).  Without God's Spirit confirming the Word of God and vice-versa, our "light" will be dim in this dark and dying world.
In the 21st century, China continues to grow economically but digress morally.  Now in our 20th year, East Gates continues to climb the mountain and be faithful to its high calling.  We've obeyed God's voice to build on the foundations established and continue to expand in other vital areas -- discipleship training, the publishing of Chinese Christian literature, church building, and social welfare projects -- all of which you will read about in this special anniversary issue.
Jesus told his disciples and His voice continues to echo on down to us today, "...if you have faith [that is living] like a grain of mustard seed, you can say to this mountain, 'Move from here to yonder place, and it will move, and nothing will be impossible to you'" (Matthew 17:20, Amplified).  We continue walking in God's faithfulness and praise Him for His eternal love for our Chinese brothers and sisters and the great nation of China.  We continue to "See Beyond the Impossible!"
~ Ned Graham, President