Seeing Beyond the Impossible
HIGHLY QUALIFIED TEACHERS NEEDED
"What is the greatest need within the Church in China?"  Qualified teachers and trainers who can genuinely live our their Christian faith and teach others how to be teachers.
When we visited the Jai Mu Shi in Heilongjiang Province, a local church that had three years of theological training but lacked the teachers to continually fill the needs of the students.  Rev. Han in Dingxi, Gansu Province hopes he can fully utilize the Training Center we helped build and fund but due to lack of qualified teachers.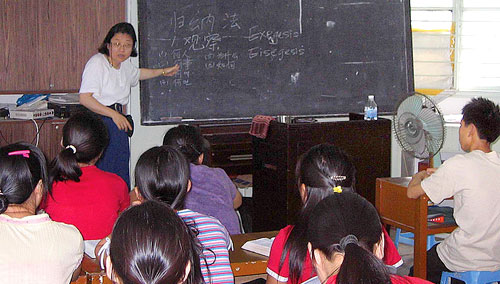 Different theological training classes in different areas have surfaced like mushrooms but in general, they lack qualified teachers and therefore, restrict the development of training within the House churches.  There are so many urgent needs in different areas that require trained pastors, workers and lay trainers to feed the flock.  These needs are increasing daily!
The churches in different areas not only lack teachers but more importantly, high-quality teachers. Some of the believers would do so much better if they only had competent Christian teachers guiding and leading them in their spiritual formation.
For example, some wonderfully converted Christians I know in Shandong, Zhejiang and Jiangxi Province have high school educations and over ten years of experiences in various ministries. They all diligently study the Bible together and take on the work of teaching in their churches.  Given the few of them, they can fulfill the needs of those in their local church but cannot meet the demands of those who are now coming into their fellowship.
For the healthy growth of the church, the congregations need teachers that are faithful, knowledgeable and can teach at many different levels.  May God prepare servants that have these attributes to meet the needs of the Chinese Churches!  May God touch us so we can respond quickly to the needs of Chinese Churches!  We work in response and by the guidance of Holy Spirit to have a greater impact on the Church in China.
Mr. Zhang ~ Shanghai