Seeing Beyond the Impossible
As a result of your prayers and support, East Gates has placed over 4.5 million Bibles into the hands of our House Church brothers and sisters in China.  This is not including all the Bibles we've distributed to the Open or registered church believers.
In 1992, East Gates wrote a contract with the China Christian Council and United Bible Society which allowed House church Christians to receive Bibles safely with the full knowledge and approval of the Chinese government.  It was a significant milestone in that House Church believers were now able to receive Bibles legally through East Gates whereas before they had no entity in which to receive them safely.
Although this event started 25 years ago, many people in the West are still not aware of this fact.  They still assume that Bibles must be smuggled into China in order for House Church believers to receive one.  Unfortunately, they have been misformed.
Today, East Gates works with the Amity Printing Press in Nanjing and the local provincial Three-Self Patriotic Movement (TSPM) and China Christian Council (CCC) offices to fulfill all the Bible orders it receives.
It is hard for many in the West to believe that an atheistic country like China has one of the largest and most productive Bible printing presses in the world.  Amity Printing press was established in 1988.
By the end of 2016, the Amity Printing Press will have printed 200 million Bibles!  Today, China is the second largest publisher and exporter of Bibles in the world.  The United States is first.
amity printing press - behind the scenes
the legal bible distribution process
At present, there are over 70 major Bible distribution centers in China.   Amity Printing Press delivers domestic Bible orders to these sites.
To ensure proper delivery of Bibles to their final destination is still labor intensive.
Our countless Bible recipients...
"For with God nothing is ever impossible, and no word from God shall be void of power."
Luke 1:37
Amplified
east gates is here to help
For US $5.00, you can continue to help put much-needed Bibles legally in the hands of our House Church brothers and sisters.  Nowadays, bi-lingual Chinese-English Study Bibles are quite popular as more Chinese are studying English.  They have index tabs, maps, commentaries, Bible references and come in the Revised English and New International versions.
East Gates Project Director, Mr. Zhang in the process of delivering a large Bible order.
East Gates is able to obtain any type of Bible you would have an interest in to purchase for a friend, church or large group in the U.S. or China. Feel free to contact us.
Another project we're involved with is our mini-libraries project.  Since 1997, East Gates has had the privilege of establishing over 200 libraries to key home meeting points throughout China.  We provide Bibles, quality Christian reference books and devotionals whenever the request is made.
Currently, East Gates is giving greater attention to the poor, rural inland regions of Western China where the need for our Free Bibles is still very great.  Please pray that we may continue to assist the church in these needy regions by providing them with the Word of God, so their souls can be fed and their minds nurtured towards a greater understanding of who they truly are and their Lord and Savior, Jesus Christ.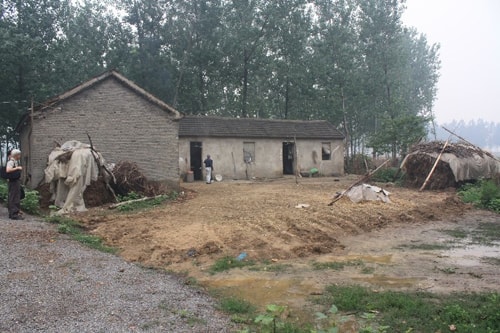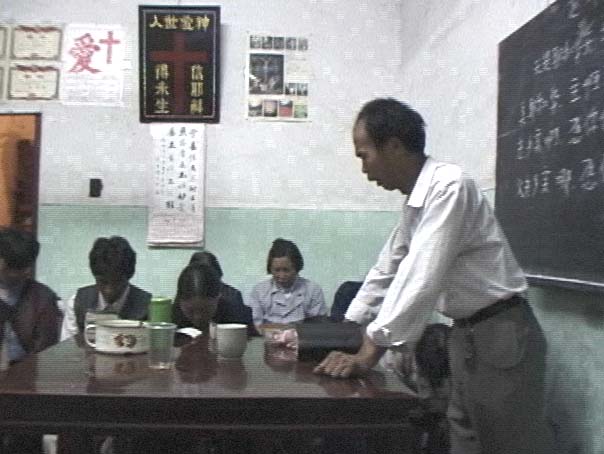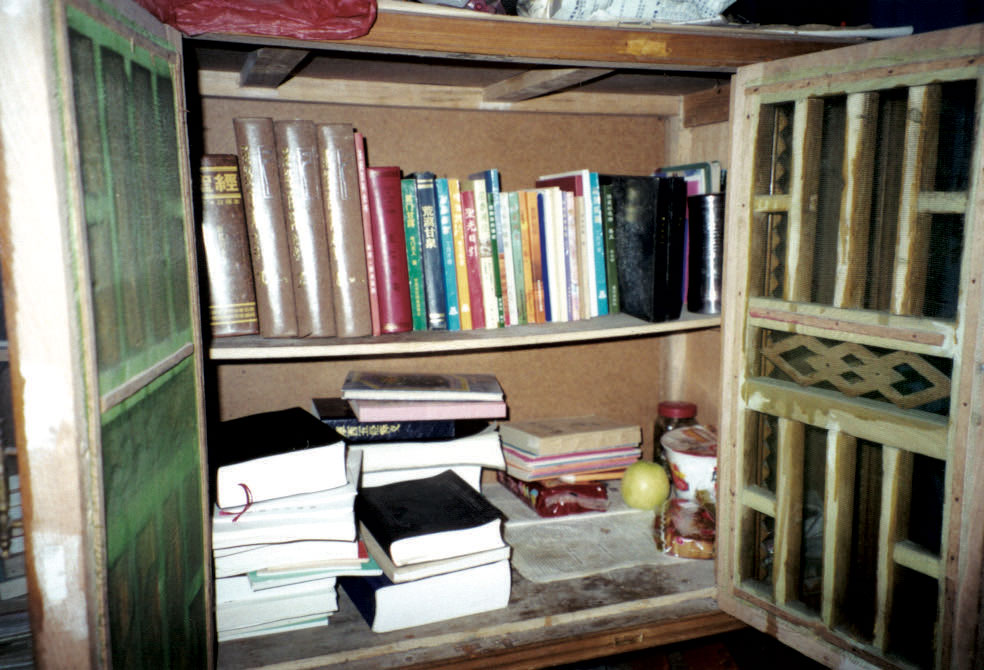 In rural areas, some pastor/farmers can only make US$75/month. This pastor wanted to trade some of his livestock for Christian training materials to "feed his flock." We told him we would be more than happy to provide him with a free Christian mini-library.
A pastor's mini-library in Yingcheng, China.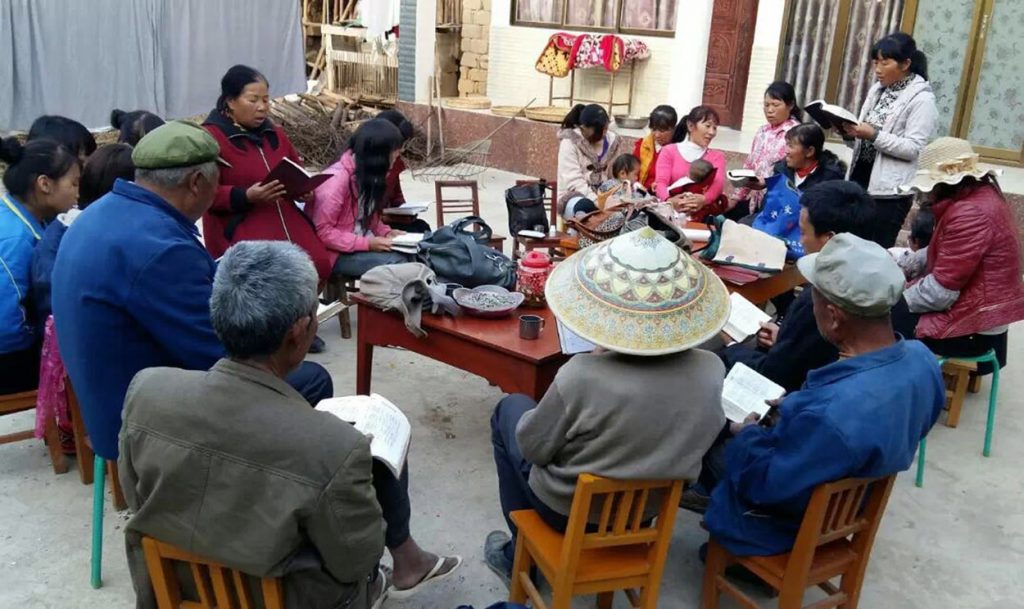 In poor village areas, once a church leader or lay trainer is given key Bible materials and starts teaching, the whole community starts taking interest like in this remote area of Baoshan, China.