On February 21, 2018, my dad passed away at his home in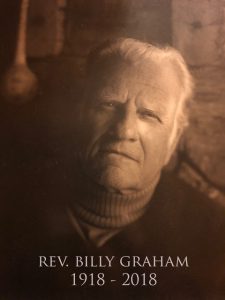 Montreat, North Carolina.  He was released from this earthly realm and entered where he always wanted to be -- his forever home.  We can only imagine how he was gloriously greeted by His Savior, Jesus the Messiah, whom he so faithfully served for 99 full years.  I know he heard, "Well done good and faithful servant…enter into the joy of your Master" (Matthew 25:21).  Perhaps dad is now seated at the wedding banquet with mom, surrounded by a heavenly host, waiting for all of us to join them!
Dad was born in Charlotte, NC, and mom in Huai'an, Jiangsu Province, China.  From the Christian perspective, they were always considered a "son" and "daughter of China."  Their passion for reaching China never dimmed as they saw and experienced the spiritual potential of the Chinese people.  Today, their heart and ministry to the countless seekers, believers, and churches there are expressed through East Gates and the BGEA.  We welcome you to continue their legacy with us so God's Heavenly Mandate for China can be truly fulfilled.
~ Ned Graham
East Gates, President